APA Professionals Choice

The APA PRO Auto Care warranty program levels the playing field with the big national service shops, by giving your customers the ability to offer nation-wide network service warranties like the competition.
With over 35,000 network service centers nationwide, the APA PRO Auto Care program offers benefits for you as host shareholders, your customers and their clients to grow customer loyalty, increase business and product volume.
2020 APA PRO AUTO CARE ENHANCEMENTS
New benefits for current and new APA PRO Auto Care network facilities in 2020!
---
ENHANCEMENTS
REBRANDING
The Professionals' Choice Auto Service Center is
now the APA PRO Auto Care Center!
Pardon our dust as we tackle the rebranding process, from website updates to marketing materials.
NOTE: All eligible Professionals' Choice Auto Service Center warranties are still valid and will be honored.
SALES INCENTIVES
Increased sales incentives for signing new APA PRO Auto Care Centers on behalf of APA shareholders.
SERVICE LEVEL TIERS
New tiered service levels were introduced in 2019. APA PRO Auto Care repair facilities have the option to choose the membership service level that best suits their business with associated rebate plans for APA product line purchases.
For 2020, the Gold level includes 36 month or 36,000 mile warranty, while the Silver level will remain the same with 24 month or 24,000 mile warranty.
Give repair customers peace of mind with the Professionals' Choice Auto Service Center Nationwide Warranty
Repairs are guaranteed free from defects in materials or workmanship for either 36 months or 36,000 miles OR 24 months or 24,000 miles depending on the facility's service level from the date of initial repair at over 35,000 nationwide facilities

Covers new and remanufactured parts and labor (limits apply – see documentation for details)

Towing expense up to $100 (must use approved tow service)

Rental car expense (up to $40 per day, limits apply – see documentation for details)
NATIONWIDE WARRANTY COVERAGE

BRAKE SYSTEM
ENGINE COOLING SYSTEM
CLIMATE CONTROL SYSTEMS
ENGINE PERFORMANCE AND/OR DRIVEABILITY REPAIR
CRUISE CONTROL SYSTEM
EXHAUST SYSTEM
ELECTRICAL SYSTEMS
OTHER MINOR REPAIRS
ELECTRONIC ENGINE MANAGEMENT SYSTEMS
STARTING AND/OR CHARGING SYSTEM
OTHER ELECTRICAL SYSTEMS
STEERING AND SUSPENSION SYSTEMS
EMISSION CONTROL SYSTEM
SEE DOCUMENTATION FOR ADDITIONAL DETAILS
---
ROADSIDE ASSISTANCE
Repair customers can rest assured knowing they have 24 months of complimentary Roadside Assistance as an additional benefit of the Nationwide Warranty plan should their vehicle break down for any reason.
The vehicle owner is eligible to submit two (2) claims for reimbursement in a 12-month period for $100 in roadside assistance services for each occurrence, (excluding the cost of fluids if necessary) per covered vehicle. See documentation for additional details.

ROAD HAZARD WARRANTY
For shops that sell tires, the Road Hazard Warranty is also available for a low monthly fee to provide customers with 36 months of additional coverage for tire repair or replacement with the purchase of new passenger or light truck tires. Coverage includes tire failure from cuts, punctures and impact damage from glass, nails and potholes on legal roads.
ROADSIDE ASSISTANCE COVERAGE
TOWING
BATTERY
JUMP-START
LOCK-OUT ASSISTANCE
FLAT TIRE ASSISTANCE
FUEL, OIL & WATER DELIVERY
TOP BENEFITS
In addition to the competitive edge in building customer loyalty with the APA PRO Auto Care warranty guarantees and the new business from network warranty repair referrals, the program hosts even more benefits for your customer's repair facilities.
WELCOME KIT & SIGNAGE
Repair facilities that join the APA PRO Auto Care network will receive a comprehensive welcome kit including branded signage and documentation assuring customers all work is guaranteed nationwide for either 36 months or 36,000 miles OR 24 months or 24,000 miles depending on service level.
WELCOME KIT INCLUDES

30″ X 36″ METAL TACKER SIGN
ASE REIMBURSEMENT FORM
9′ X 2′ VINYL
NATIONWIDE WARRANTY BANNER
ENROLLMENT FORM
CERTIFICATE OF MEMBERSHIP PLAQUE
NATIONWIDE WARRANTY
PROCEDURE MANUAL
CODE OF ETHICS &
CUSTOMER PROMISE PLAQUE
ONE ROLL OF BRANDED
OIL CHANGE CLINGS
NATIONWIDE WARRANTY
POSTER & FRAME
SLIP-N-GRIP CATALOG
& $50 SAVINGS COUPON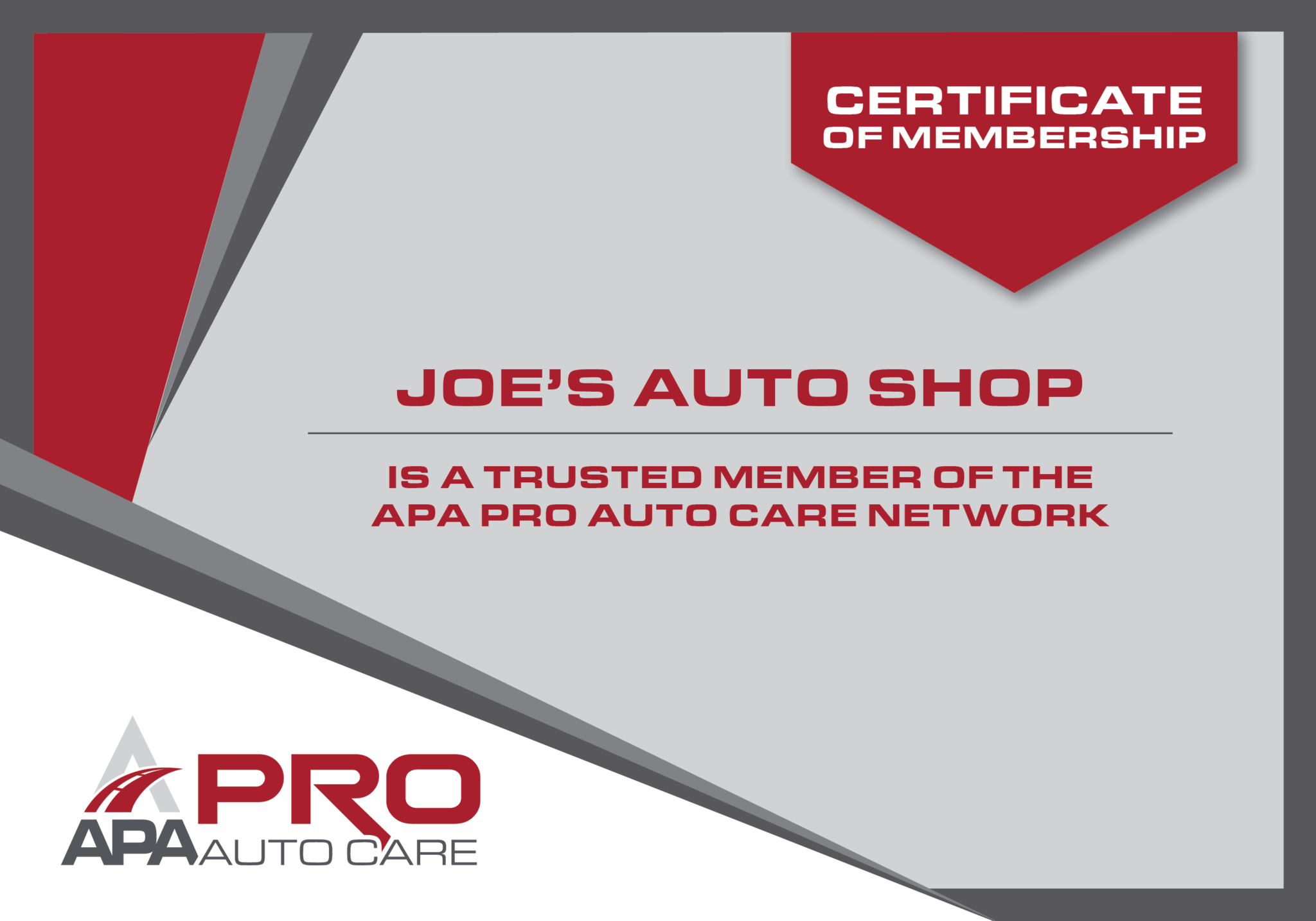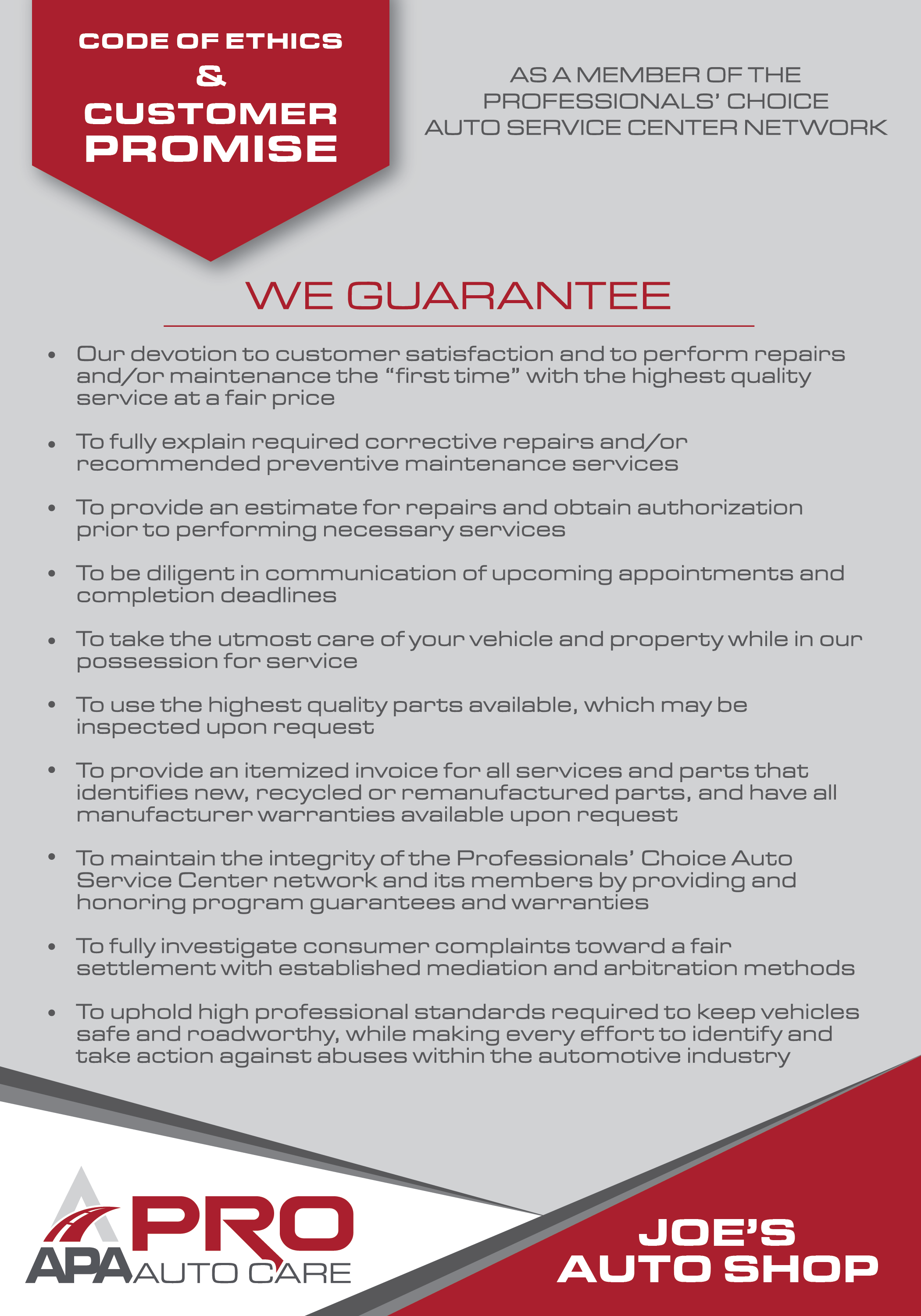 ELECTRONIC MENU BOARDS
Repair facilities will be able list services and rates in style with an electronic menu board (additional fees apply).

---
ASE CERTIFICATION REIMBURSEMENT
With constant changes in automotive technologies, Professionals' Choice Auto Service Centers can ensure technicians are always on
Top of the latest industry innovations with ASE Certification Reimbursement. For additional details, see documentation.

Regular test completion – $35 each
Advanced test completion – $70 each
Maximum reimbursement for any combination of recertification tests – $105
---
LABOR REIMBURSEMENT
The Labor Reimbursement program covers the labor costs required to perform a warranty repair as a part of the Nationwide Warranty, should there be a part failure and return to the original facility with a competitive Mitchell Labor Time rate of $75/hour for only $6 per service ticket.
The program also extends the warranty on parts purchased from an Automotive Parts Associates distributor on APA product lines to 24 months or 24,000 miles, otherwise parts are subject to the manufacturer's warranty. For additional details, see documentation.
The Labor Reimbursement program is flexible in that service centers have the option to choose if they want to insure a service ticket for potential loss of labor wages due to warranty repairs. However, work orders must be registered within two business days in order to be eligible for reimbursement should the customer return with a part failure.
---
TRAINING
Product training is available for APA PRO Auto Care Centers by Automotive Parts Associates Preferred and Approved Suppliers.
---
SPECIAL OFFERS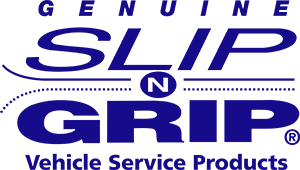 Get a $50 credit toward first $300 Slip-N-Grip order through an APA distributor courtesy of APA PRO Auto Care. Coupon and additional details are included in the Welcome Kit.
---